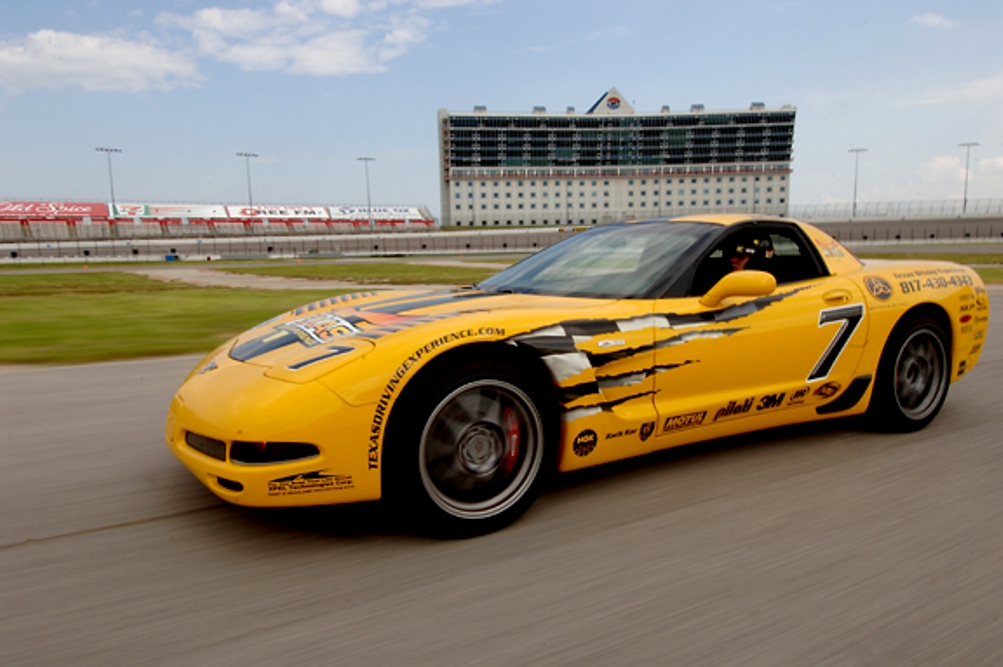 © Photo courtesy of Total Driving Experience
Shift from spectator to participator during an adrenaline-pumping trip around some of the top motorsport tracks in the Dallas/Fort Worth area. Speed enthusiasts at a variety of skill levels can experience the exhilarating sensation of high-performance vehicles at these exciting ride-and-drive events.
Thrill Rides
Jump into the passenger seat of a 450+ horsepower Z06 Corvette, buckle up your five-point harness, and prepare for some top-speed heart-pounding laps as your personal racecar driver makes gravity-defying turns on the Total Driving Experience one-mile infield road course at Texas Motor Speedway. Or feel the wind in your hair as Team Texas takes you on a three-lap limo racecar ride in the first ever NASCAR Sprint Cup limousine, suitably fitted with the current NASCAR Chevrolet SB-2 racing engine and transmission. Need even more fast-paced authenticity? Schedule a NASCAR Racing Experience and ride shotgun in an actual racecar driven by motorsports stars such as NASCAR Champion Jimmie Johnson, Dale Earnhardt Jr., Jeff Gordon, and other favorites.
Taking Stock
When it's time to put the pedal to the metal yourself though, you can count on Texas Motor Speedway to provide an assortment of programs perfectly suited for you or your group. Operating year round, Team Texas offers the most aggressive riding/driving programs in the country and is the only stock car driving school in the country that uses real Sprint Cup cars with the current NASCAR Chevrolet SB2 racing engines from ECR Engines.
With available lineups offering from 10 to 80 laps and reaching speeds in excess of 150 miles per hour in the advanced sessions, fans have a chance to be in the driver's seat at The Great American Speedway through the NASCAR Racing Experience, Richard Petty Driving Experience, and Dale Jarrett Racing Adventure whose fleets also consists of actual race cars that have been driven by current NASCAR drivers. The World's Fastest Racing Experience puts you in a full-sized open-wheel, Indy-style race car on the superspeedway with NO lead car at the Mario Andretti Racing Experience where you can set your own pace as a personal racing instructor on a Racing Electronics in-car radio guides you around the track.
Customized programs, private one-on-one advanced sessions, as well as gift cards are also available; and Total Driving Experience additionally specializes in corporate events offering full-service, racecar-themed entertainment including meeting space, catered meals, and more.
Exotic Drives
For a full-throttle journey down the road less traveled, let Epic Auto Tours awaken your soul as you drive six of the world's most iconic dream cars in a single day. Take a drive through the breathtaking scenery surrounding Possum Kingdom Lake as you get behind the wheel of a Lamborghini, Ferrari, Mercedes, Audi, Aston Martin, and/or perhaps a Bentley. Alternatively, you can fuel your dream at MotorSport Ranch, the first-of-its-kind country club for motoring enthusiasts featuring purpose-built road-racing courses designed to satisfy that need for speed. Practice your driving skills, attend a performance driving school, or participate in gentlemen's racing at this facility which is also home to numerous sports car related businesses.
Kart Before the Horsepower
For a fun weekend activity or unique party option, consider K1 Speed indoor go-kart racing center. The world-class entertainment venue features a professionally designed track, high-performance all-electric European go-karts capable of reaching a top speed of 45mph in mere seconds, and a lobby that's part arcade part motor sport museum. No reservations are necessary for the facility's popular Arrive & Drive competition in which an advanced timing system measures lap times up to a hundredth of a second and drivers vie for position to ultimately win with the quickest overall lap time. Alternately, Pole Position Raceway in Frisco provides real head-to-head indoor electric go kart racing featuring high-performance European karts capable of 45 mph. On a lighter (but not less competitive) note, SpeedZone also offers go-kart racing opportunities such as the fun-for-all Thunder Road course, the drift-style polished-concrete Slick Trax, wheel-to-wheel high-torque cars on the Turbo Track, and the Top Eliminator 300-horsepower dragsters which easily pull 2.5 G's.
Luxe Refined
When you're ready for a luxury splurge or you need an upscale vehicle for an extra-special occasion, Platinum Motorcars has an impressive inventory of extravagant vehicles waiting to make you look fabulous in valet. Browse their online catalog of drool-worthy beauties, or make an in-person visit to this premier exotic and luxury car rental dealership which encourages guests to come in, sit in the cars, touch the steering wheel, smell the leather, hear the engines roar, and view [the] numerous amenities of this collection of head-turning luxosedans and attention-grabbing sports cars such as the Lamborghini LP560, Bentley Flying Spur, McLaren MP, Rolls Royce Ghost, and more.
For additional information about these unforgettable bucket-list adventures and more, visit the links below.
Mario Andretti Racing Experience
Richard Petty Driving Experience
* Please note that vehicle types, tour routes, and program specifics are all subject to change and various restrictions apply; so be sure to confirm details with each individual venue for additional information before making plans of any kind.
MORE ON THE FLASH LIST
50 Things to Do
Bored? Well, there's definitely no need to be. Take your pick of these fun things to do.
Entertainment News
The latest breaking news and top stories in arts, dining, culture, movies, music, and sports.
Events Calendar
Not everything in town that you could do, but a list of events that you definitely should consider.
Date Night Ideas
From retro candy stores to luxury car rentals, let us help you impress on your next date night out.
Movies in Theaters
See previews of movies coming soon and trailers for films now playing at local theaters.
Go Gallivanting
Our sister website, The Art of Gallivanting, offers extraordinary adventures for ordinary people.