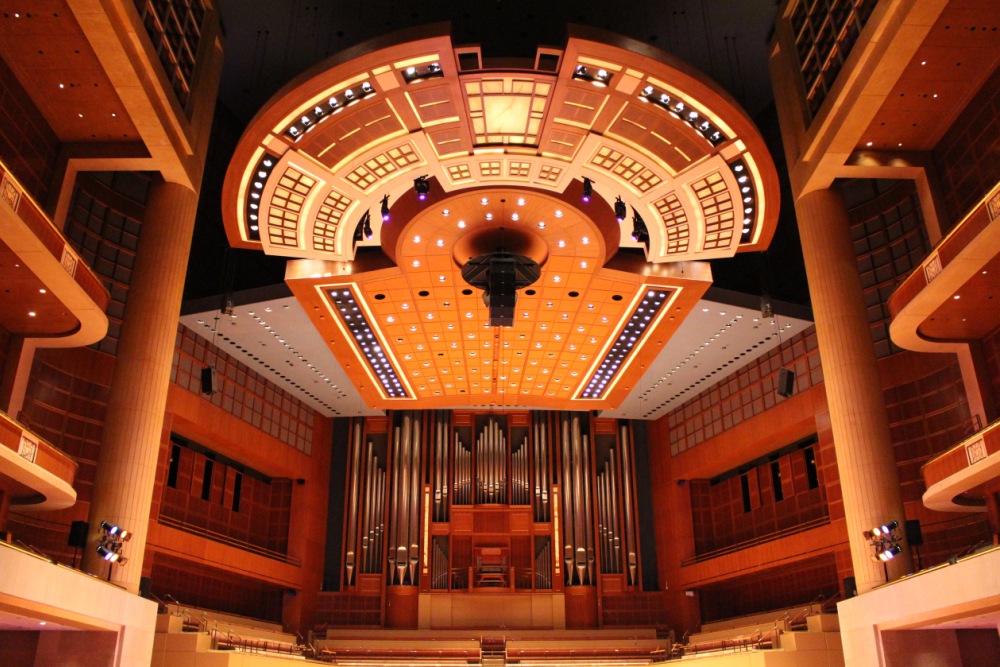 © Photo by Sherri Tilley
Since most of our readers tend to not be acousticians, sound engineers, or classically trained musicians with incredibly discriminating ears, we won't bother telling you about how the Meyerson is a narrow, rectangular, shoe-box design which allows for better sound manipulation than, say, a fan-shaped auditorium, which allows sound to dissipate easier. We won't mention the canopy over the Meyerson stage that is raised and lowered to achieve the right sound balance, and we won't say anything at all about those windows at the top of the auditorium that are opened and closed to control sound waves.
Besides, sound is going to vary with each performance anyway.
We'll just tell you that the Meyerson employs people who are well educated in those things and that they do their best to provide everyone in the audience with the best aural experience possible.
We've sat in quite a few seats at the Meyerson, all of which were well-cushioned and comfortable to us even at the end of long performances. Since the center is known for its unsurpassed acoustics and unobstructed lines of sight, we've been pleased with all of our seating options - but for different reasons. Here's our run down of what we think of each:
Orchestra Floor
(first several rows)
Super if you are seeing a solo artist who is performing at the front of the stage, or if you're attending a special presentation, or if you want to watch the conductor. But otherwise, it might be that all you see from these very up-close seats is the feet of the musicians poking out from under a sea of music stands.
Orchestra Floor and Orchestra Terrace Back
(mid-to-back center) and (back rows)
While the back rows on the orchestra floor feature comfortable seats along with a straight-on view and great sound, the back orchestra terrace offers deeper rows with more legroom. And with those rows set on a graduated platform several steps high, the terrace provides you with the ability to more easily see over the heads of the people in front of you. Not only can you still see action on the stage quite well, but sitting a little farther back in the auditorium affords you a fuller visual experience overall. You'll be able to take in more of the concert hall's ambiance including interior design, audience reactions, and view of the overhead lighted canopy above the stage.
Orchestra Terrace Side
(lowest balcony)
Great view (you can see up and over those music stands and watch the musicians play); and the seats are well-positioned (angled toward the stage) and well-spaced (plenty of legroom). Side Orchestra seating near the stage is fantastic.
Loge Boxes
(second of four balconies)
Amazing seats with, of course, the highest price tags.
Grand Tier and Grand Tier Boxes
(highest balcony)
Here's a seat we love for what may be an inappropriate reason. For one performance, we sat in the front-most seats (Box A, Seats 1 and 2) on the Grand Tier, the highest balcony. It's so high, and so far removed from the stage and the rest of the audience, that it seems like you're in your own little world up there. We were able to whisper very quietly without notice. Certainly the other couple in the box with us did not notice - they were lip-locked for most of the performance. Sooo, there's that as well.
Choral Terrace
(on the stage)
This is great if you'd like to feel like part of the orchestra. Of course, you face the audience, so you see the backs of the musicians; but you can watch the conductor's face and keep tabs on some of those crazy percussionists in the back. We won't tattle on anyone, but we have seen a few mischievous hijinks going on back there during performances. The 90-degree-angled, cushioned-yet-rigid seating allows for quite an immersive experience.
Standby Seating
(risky business)
Purchasing a less-expensive ticket for stand by seating is what you get when someone else buys a more valuable ticket, but can't make it to the show. So you might be able to sit in their seat. And maybe they purchased a really great seat. Great for you. But, on the other hand, maybe they show up late. Then there you are, having to get up out of their seat and move to another seat. Maybe in the dark. And you may have to move again if the next person shows up. So if that's fine with you, then go for it. It can pay off very handsomely, but it's a risk you have to decide that you're willing to take.
See additional information below or visit:
Morton H. Meyerson Symphony Center
RELATED STORIES
MORE ON THE FLASH LIST
50 Things to Do
Bored? Well, there's definitely no need to be. Take your pick of these fun things to do.
Entertainment News
The latest breaking news and top stories in arts, dining, culture, movies, music, and sports.
Events Calendar
Not everything in town that you could do, but a list of events that you definitely should consider.
Date Night Ideas
From retro candy stores to luxury car rentals, let us help you impress on your next date night out.
Movies in Theaters
See previews of movies coming soon and trailers for films now playing at local theaters.
Go Gallivanting
Our sister website, The Art of Gallivanting, offers extraordinary adventures for ordinary people.