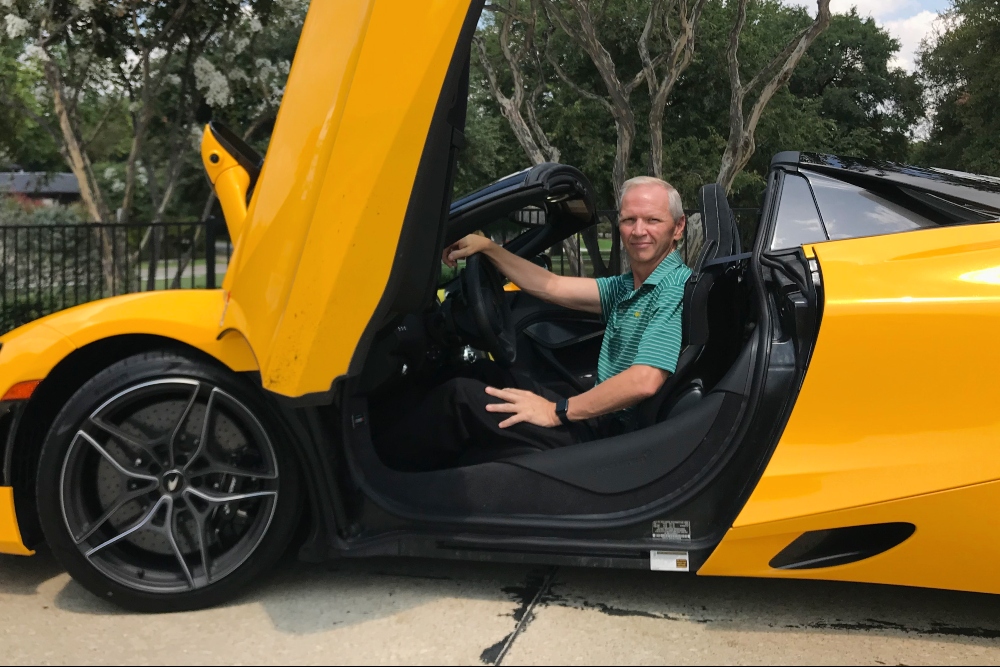 Photos © The Flash List
On most days, I'm a cool kid wannabe trapped in a pretty geeky life. You know, sort of a legend in my own mind type. At only 5 feet tall and weighing in at a mere 95 pounds, my extreme-sport experiences are almost solely comprised of careening in and out of a few ditches on my neighbor's mini bike in junior high and then catching about six inches of air once while skiing over a bump on the back side of a Colorado mountain.
Don't get me wrong, I don't mind getting a little dirty now and then, and I do have an unusually strong affinity for both speed and heights. But for the most part, I'm more of a cruising at the beach in a luxury convertible kind of gal and definitely NOT a boots-in-the-mud truck-driving tomboy.
The all-new Tacoma is available in 8 colors including Barcelona Red Metallic.
However, I recently found myself at an off-roading event at Knibbe Ranch near San Antonio on the south edge of scenic Texas Hill Country. Staring up from the bottom of a precariously steep incline of rugged terrain scattered with large jagged rocks and dusty shifting soil, all I could think was, I want to drive up that hill !!
So immediately upon jumping into the driver's seat of the all-new 2016 Toyota Tacoma TRD Off-Road 4x4, I made a full disclosure regarding my complete lack of extreme driving skills to my front-seat passenger Mike Sweers, the chief engineer for both the Toyota Tacoma and Tundra. Completely unfazed, he casually shrugged his shoulders; and with a sly little smile on his face, he simply responded, Okay.
We plowed through a foot-deep creek of rushing water and bounded up a consecutive set of muddy undulating grooves.
We took off at once in a Blazing Blue Pearl colored version of this aggressively-designed tough-looking vehicle which, even for marketing campaign purposes, has been deemed one Bad Ass Truck. Specifically designed for tackling difficult terrain at low speeds, the Tacoma had no trouble whatsoever handling the intermediate-level trails we traversed across the expansive wooded property. We plowed through a foot-deep creek of rushing water without the slightest indication of any hydroplane slippage and bounded up a consecutive set of muddy undulating grooves before coming to rest on a flat plain at the base of that tall, untamed, and extremely rutted hill.
Crawl control modulates throttle and brakes so that the driver may focus solely on steering.
Now during this gently-sunlit picturesque moment, I'd love to tell you that I was contemplating all of the terrifically impressive new features of the Tacoma like the fuel-efficient 3.5L Atkinson cycle V6 engine, the lighter and more durable 6-speed transmission, the enhanced suspension tuning with Bilstein shocks, the electronically-controlled locking rear differential, the all-new body which incorporates weight-reducing high-strength steel, or the incremental style changes that meticulously cut down on air turbulence and keep wind noise at a minimum. Perhaps I should've considered the notable 278 horsepower, 265 lb-ft of torque, 6,800-pound maximum tow rating, 1,620-pound maximum payload, 18/23/20 estimated mpg, best-in-class 32-degree approach angle, or even the now-deeper bed space with easy-lowering locking tailgate and integrated spoiler that reduces drag.
Off-road testing occurred at Knibbe Ranch near San Antonio in Texas Hill Country.
Okay, yes, maybe I could've taken a second or two to appreciate the refined interior with its segment-first standard GoPro mount on the windshield, available power moonroof, smart key with push-button start, and the fantastic optional Premium & Technology Package which bundles front dual zone climate control, heated front seats, blind spot monitoring with rear cross traffic alert, and exceptional Entune Premium 440-watt JBL audio that provides seven perfectly-positioned speakers for a precision-tuned concert-like atmosphere.
But I wasn't thinking about any of that.
Tacoma features easy-lowering locking tailgate and integrated spoiler.
Instead, my only concern at the time was the truck's capability to conquer the foreboding obstacle-ridden rocky heights in front of me. So with a couple of quick adjustments and the simple touch of a button, the truck was set into its Crawl Control mode and up we went. Taking my feet completely off both pedals, I gripped the steering wheel, furrowed my brow a bit, squinted my eyes slightly, and began my upwardly-focused ascent. I might have even imagined that tumbleweed-accompanied whistling sound you hear just before a gun-slinging standoff in old Western movies like The Good, The Bad, and the Ugly.
Interior features segment-first GoPro mount, available moonroof and JBL audio.
With its most-up-to-date traction control system handling all of the acceleration and braking maneuvers, the Tacoma's acute sensitivity detected road conditions independently for each wheel and very deliberately adjusted to appropriately distribute the power accordingly which thereby allowed me to focus entirely on steering. So banking the sidewalls off an assortment of variously-sized rocks, we strategically skipped up to the summit like we were seasoned professionals skiing mogul slopes in reverse. When it was all said and done, there was nothing left for me to do but pat myself on the back for successfully completing what would've otherwise been an extremely difficult task for any average driver.
Additional test drives took place at Rio Bravo MX Park in Houston, Texas.
I drove away with an unshakable feeling of sweet satisfaction and a long-lasting sense of personal accomplishment. And although I definitely relished the sound of Mike Sweers' gracious compliments regarding my driving ability, let there be no mistake that I most assuredly knew deep inside that my victory was virtually all due to his own hard work and the painstaking efforts of the entire Toyota team and their decades-long off-road heritage.
For more information, please visit online or stop by a Toyota dealer near you today.
So thank you Tacoma, for providing me with the opportunity to look so ... well, bad ass.
And, as it turns out, who knows?
Maybe I am a dusty-boot, denim-wearing, off-road, truck-driving enthusiast after all.
For more information, or to test drive the all-new 2016 Toyota Tacoma for yourself, visit online or stop by a Toyota dealer near you today.
Sherri Tilley is based in Dallas and a journalist member of the Texas Auto Writers Association.
MORE ON THE FLASH LIST
Fun Things to Do
You've worked hard and now it's time to play hard. So kick back and enjoy some personal recreation.
Entertainment News
The latest breaking news and top stories in arts, dining, culture, movies, music, and sports.
Events Calendar
Not everything in town that you could do, but a list of events that you definitely should consider.
Date Night Ideas
From retro candy stores to luxury car rentals, let us help you impress on your next date night out.
Movies in Theaters
See previews of movies coming soon and trailers for films now playing at local theaters.
Go Gallivanting
Our sister website, The Art of Gallivanting, offers extraordinary adventures for ordinary people.